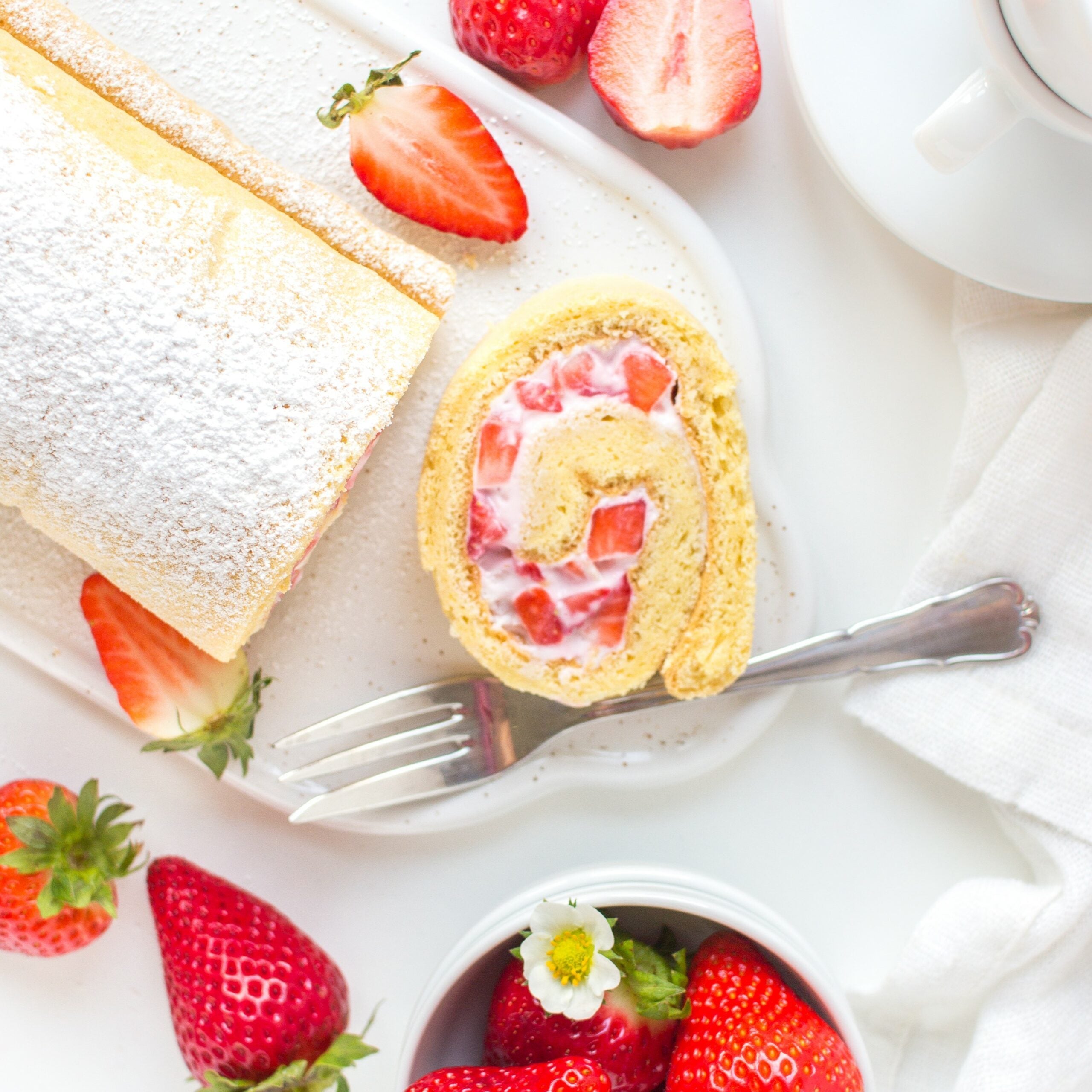 Overview
total: 80 Minuten (incl. baking time)
quantity: 12 servings
difficulty: intermediate
Ingredients
Dough:
6 eggs (size M)
120g (spelt) flour
140g confectioners' sugar
1 tsp. vanilla sugar
2 tbsps. warm water
pinch of salt
Filling:
200g strawberries
250g skyr
2 tbsps. yoghurt
3-4 tbsps. sugar
1 tsp. vanilla or tonka sugar
1/2 a lemon
Preparation
Not only a great and quick idea for mothersday, but also for a cosy brunch on sundays. This Swiss roll tastes best of course with your own fruits from SISSI STRAWBEERY.
First seperate the eggs for the dough. Beat the egg whites until stiff in one bowl. Cream the egg yolks, the confectioners' sugar and the water in a seperate bowl until light (works best with a kitchen machine). Mix approx. two thirds of the beaten egg white to the yolk-sugar mixture. Sieve the flour in and whisk in slowly per hand with a whisk. Lastly, fold in the remaining beaten egg white lightly. Cover an oven tray with baking paper and spread the dough evenly. Place in the oven preheated to 180°C (top and bottom heat). Bake golden for about 16-18 minutes.
In the meantime wash and dice the freshly picked strawberries. Stir the skyr, yoghurt, sugar, the zest and the juice of half a lemon unti smooth. Afterwards also mix the diced strawberries into the cream and place in the refrigerator.
Unfold a kitchen towel, take the tray out of the oven and let the sponge cake immediately fall on the kitchen towel. Carefully remove the baking paper from the cake. Preferably turn the cake once again to have the smooth side on the outside of the cake. Roll in the sponge cake including the kitchen towel when it is still hot and leave to cool down. This way the Swiss roll can be filled afterwards easily.
As soon as the sponge cake is cooled down, you can roll it out again and remove the kitchen towel. Spread the strawberry cream with a spoon from the inside to the outside. Use less cream on the outside, to make sure that the filling stays inside the Swiss roll when rolling in again. Roll in carefully with the cream and lastly sprinkle with some confectioners' sugar. The less beautiful endings can be tasted immediately.
Enjoy with some fresh strawberries on the sunkissed terrace.