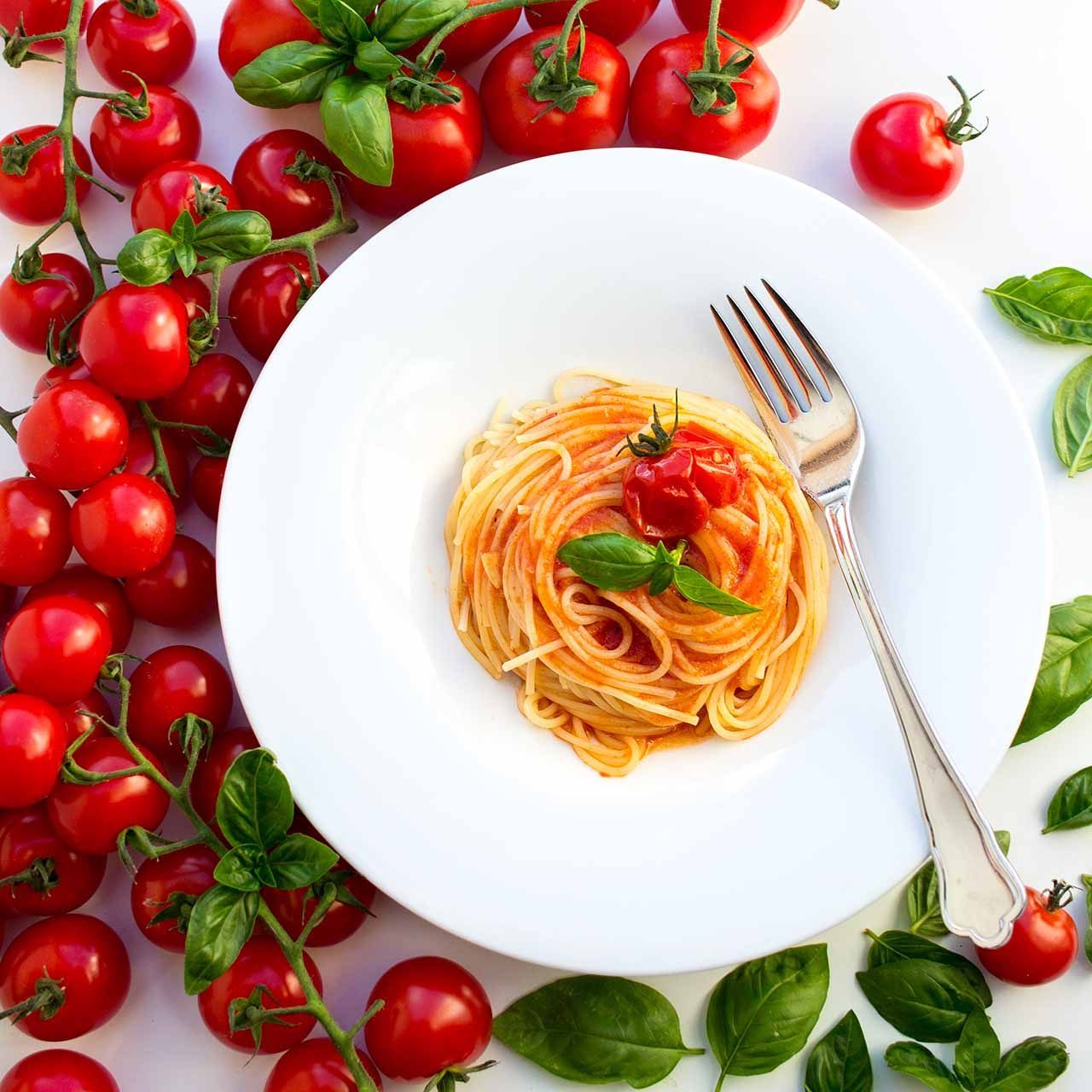 Overview
total: 30 minutes
quantity: 4 servings
diffiyculty: easy
ingredients
800g - 1000g cherry tomatoes
2 spring onions
2 cloves of garlic
4-5 tbsps. olive oil
2 tsps. sea salt
500g pasta
basil
parmesan
Preparation
Keep it simple - the probably best and easiest tomato sauce for pasta! Also individually combineable: either with anchovies and olives, with a delicious "Puttanesca" or just with fresh basil and parmesan - that sauce is always a special tasting experience.
Preheat the oven to 220°C top and bottom heat. Remove the tomatoes from the panicle, wash and drain off the water. Mix the tomatoes with olive oil, sliced spring onions and salt in a casserole or oven dish. If you use a bigger tomato variety than cherry tomatoes, cut the fruits with a sharp knife. So they can get softer in the oven. Last but not least also add the soft pressed and halfed (unpeeled) cloves of garlic to the casserole. Now roast the tomato mixture in the preheated oven for 25 minutes.
Meanwhile prepare a deep pan (a wok fits best) and a bigger pot with salted water for the pasta. Take the roasted and pleasant-smelling tomatoes out of the oven, remove the cloves of garlic and softly mash the mixture with a fork. Slice the cloves of garlic in fine pieces and deglaze in the pan with some olive oil. Pour the tomato sauce through a sieve into the pan. Bring to boil and season with a pinch of freshly grounded pepper and sea salt.
In the meantime cook the pasta al-dente. Afterwards add the pasta to the pan with the tomato sauce and mix with some fresh basil. So, the sauce is blending perfectly with the pasta. Serve in deep plates with some roasted tomatoes and top with parmesan and fresh pepper.