Which herbs can I grow in HARRY HERBS?
... and many more varieties of your choice.
How do I use HARRY HERBS as a planter?
No more toasted plants!
Fresh herbs enrich every household. They not only bring flavor to your dishes, but also smell and color to your kitchen. With HARRY HERBS, your kitchen herbs will finally have a home where they feel completely comfortable. The water reservoir with 0.5L water capacity and the watering wicks always provide your plants with just the right amount of water.
In this instruction guide, you will learn everything about HARRY HERBS as a planter - how to set it up as well as how to take effortless care of your herbs. You can harvest your own favorite herbs at home in no time.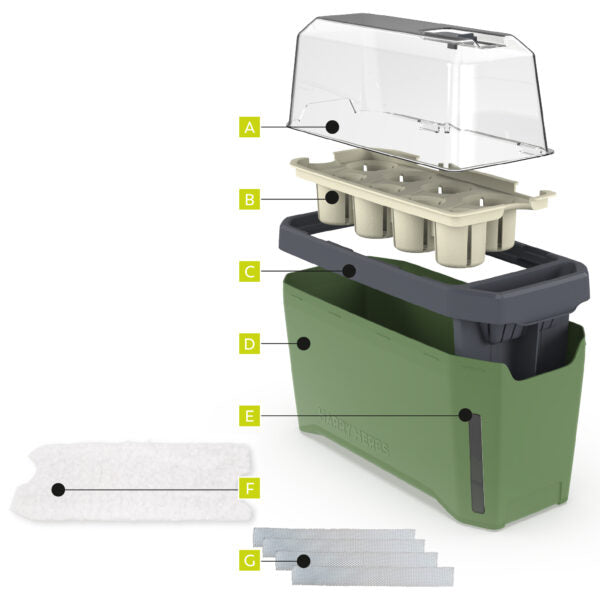 Time: 15 minutes
Costs: EUR 39.90
Tools:
- there are no tools required to set up HARRY HERBS
HARRY HERBS Set-up planter:
Step 1:
First put the insert with the pots (B) in the bottom of HARRY HERBS. Followed by the grow mat (F) and the pressed coconut soil.
Step 2:
Then seat the insert holder with the filling port (C).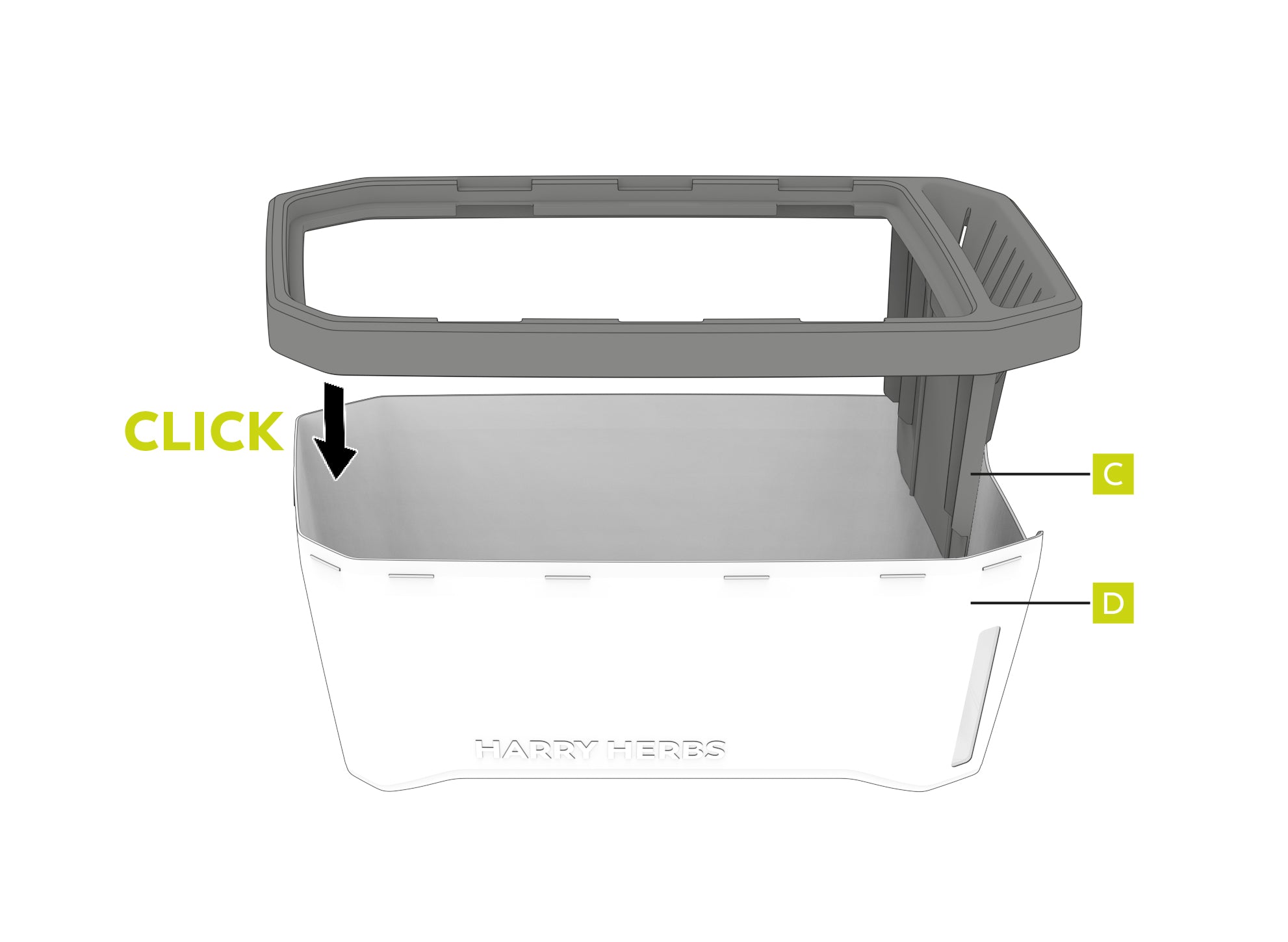 Step 3:
Fill HARRY HERBS with approx. 3L hot water (60°C) and let the coconut soil swell. 15 minutes later the soil soaked up all the water.
Step 4:
Afterwards, plant or sow herbs of your choice in HARRY HERBS. Mind the correct planting depth and if your seeds are light or dark germinators. Add nutrients in form of fertilizer if required.
Location
When choosing where to place the planter, know that most herbs are quite frugal. The only important thing is to choose a location that provides enough daylight. Most herbs are "sun worshipers" and appreciate a light-flooded place, such as a windowsill. Of course, herbs also feel very comfortable outdoor from spring to autumn, e.g. on the balcony. Outdoors please provide a location which is half-shady.
Attention in the cold season: If your windowsill is above a radiator, you should relocate your HARRY HERBS. Warm, dry heating air is not beneficial to any plant.
Watering
In addition to daylight, herbs, above all, love a constant supply of moisture. With the integrated water reservoir of 0.5L and the grow mat in the bottom of the plant pot, HARRY HERBS ensures that your plants are always adequately supplied without waterlogging. Simply keep an eye on the water level via the viewing window and refill it regularly via the side filling opening.
Ongoing care
To prevent rot and pest infestation, herbs must be kept clean. For example, if chive turns yellow, you should cut off the yellow shoots completely above the ground. The plant will sprout again within a short time. In addition, dry shoots should be removed immediately. If you plan to plant different herbs in one HARRY HERBS, you should make sure that they have similar requirement for the needed amount of water. For example, basil requires a lot of water, while thyme is very frugal.
Harvesting
When it comes to harvesting your herbs, we recommend you cut the shoots with scissors or a sharp knife at approximately half their total height. This way, your herbs can quickly sprout again and grow back thickly.