Which Microgreens can I grow in HARRY HERBS?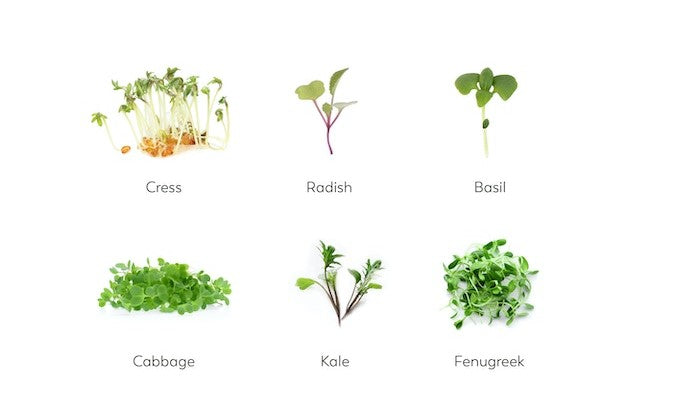 ... and many further varieties of your choice..
How do I use HARRY HERBS as a microgreens planter?
Microgreens: a true superfood containing lots of vitamins. With HARRY HERBS you can now enjoy this food-trend at home to the fullest. Microgreens are edible, leafy vegetables that are harvested at the seedling stage and are full of valuable vitamins and nutrients. The big advantage is that growing them can be done all year round and many varieties can be harvested after just 3-7 days.
In this instruction guide, you will learn everything about HARRY HERBS as a planter for microgreens – how to set it up as well as how to take effortless care and harvest of your superfood. You can grow your own microgreens at home in no time.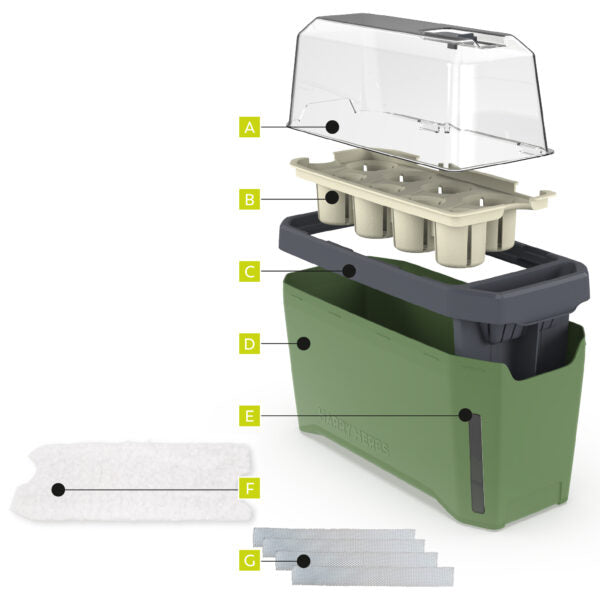 Time: 15 minutes
Costs: EUR 39.90
Tools:
- there are no tools required to set up HARRY HERBS
HARRY HERBS Set-up Microgreens:
Step 1:
Fill HARRY HERBS with warm water until you reach water level 2.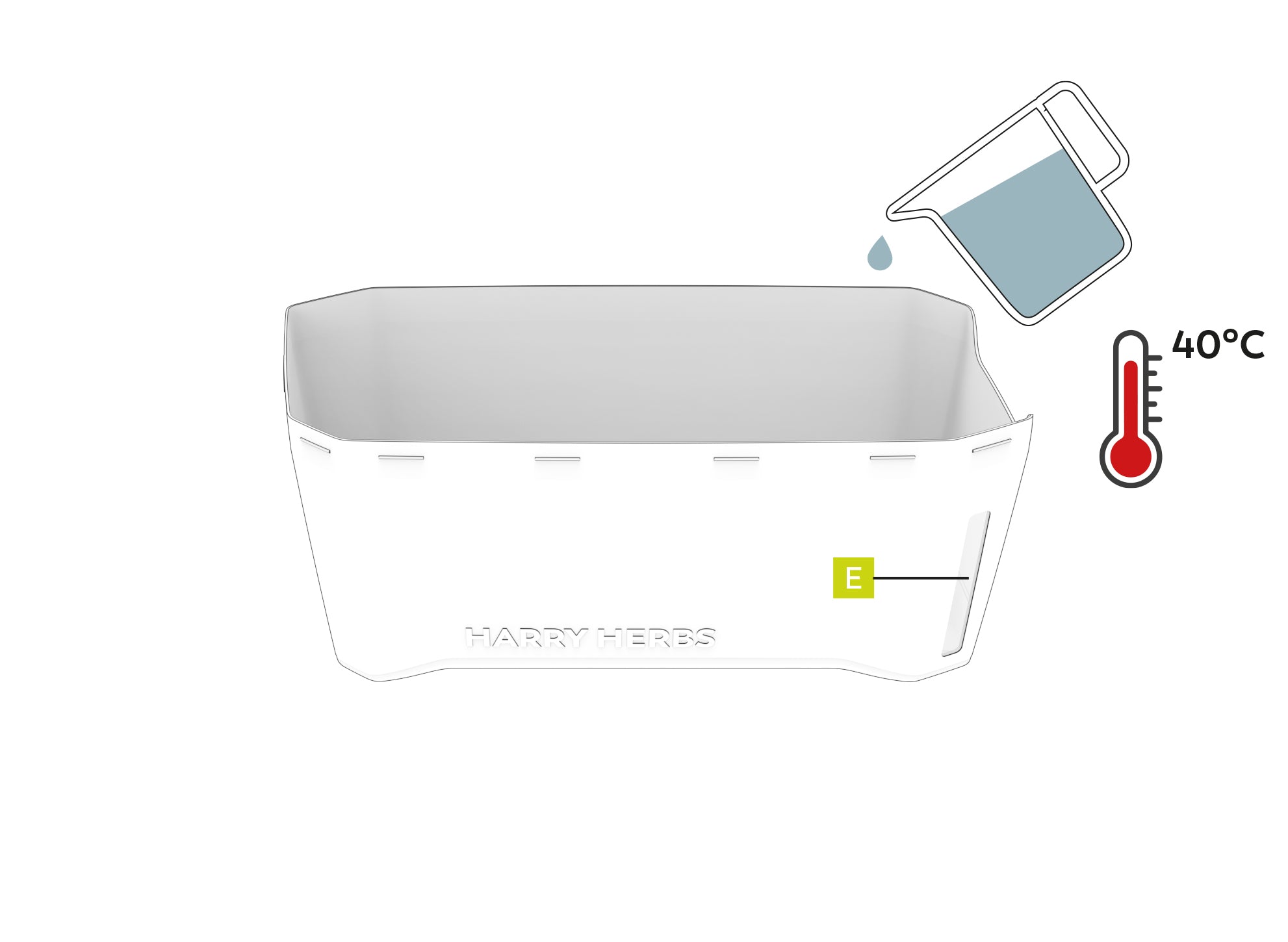 Step 2:
Place the insert holder (C) in HARRY HERBS.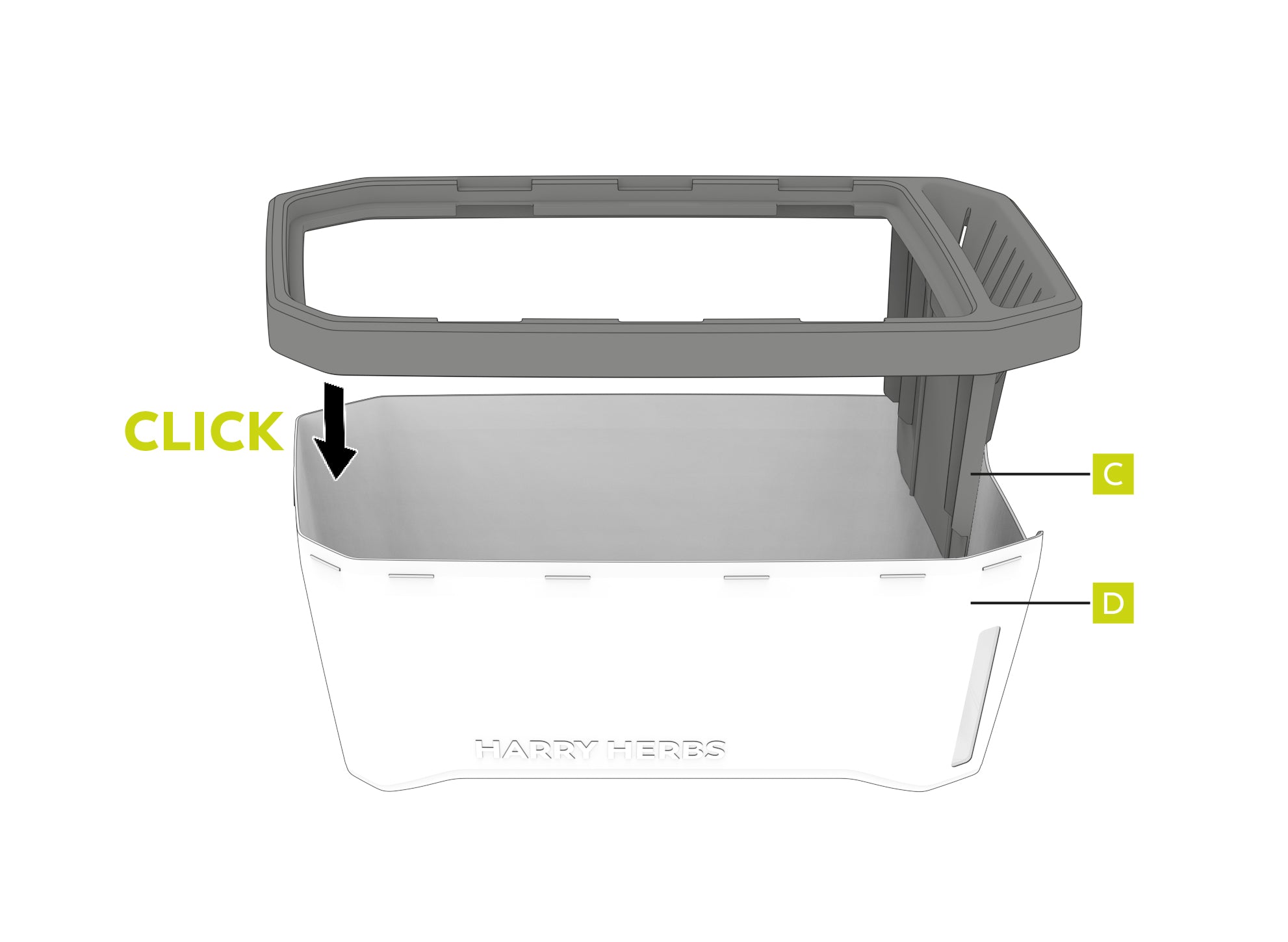 Step 3:
Seat the insert with the pots (B) on the insert holder (C).
Step 4:
Lead 4 irrigation wicks (G) through the openings of the insert B as shown in the picture.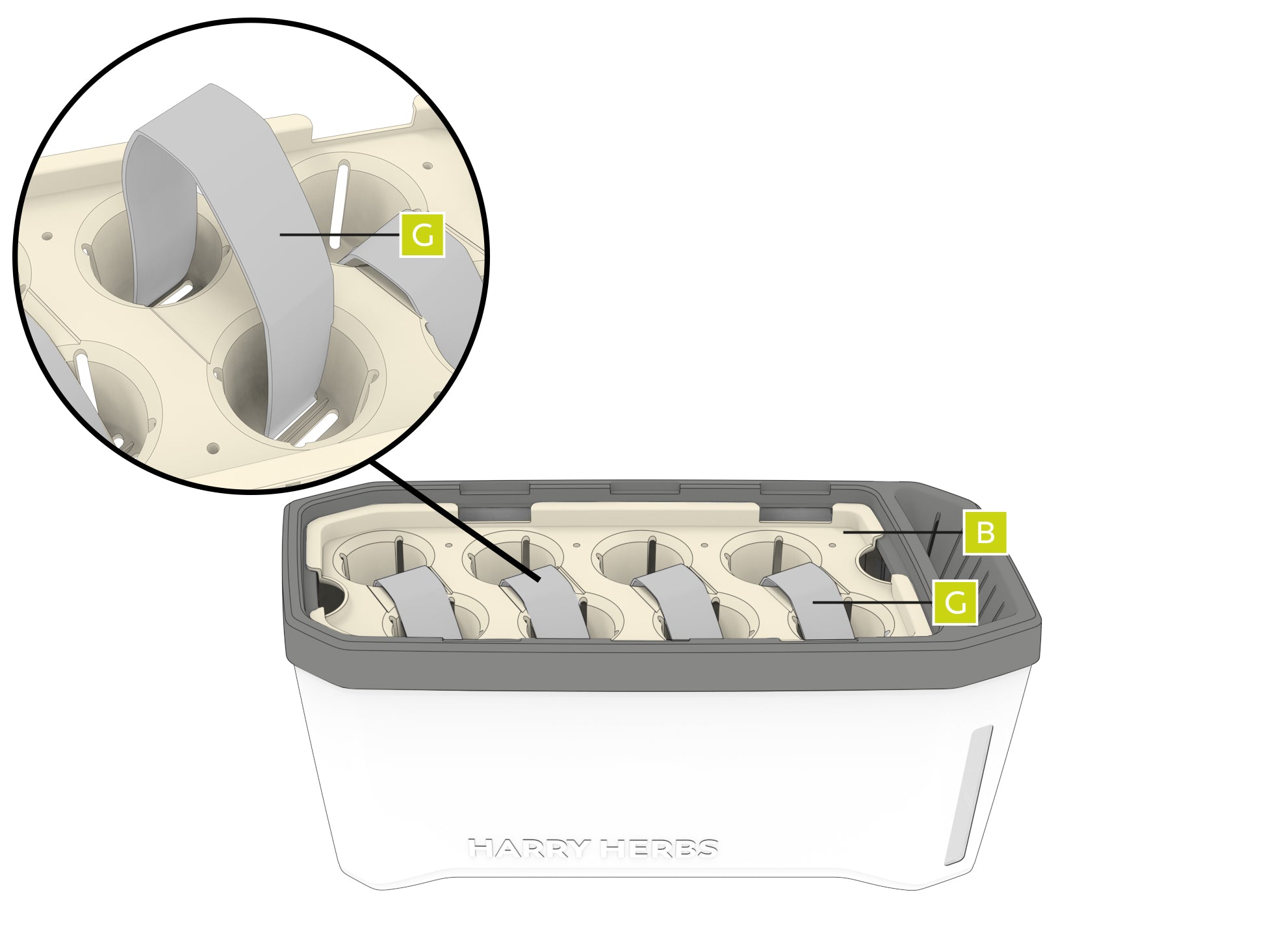 Step 5:
Place the grow mat (F) on the insert (B) and moisten with water.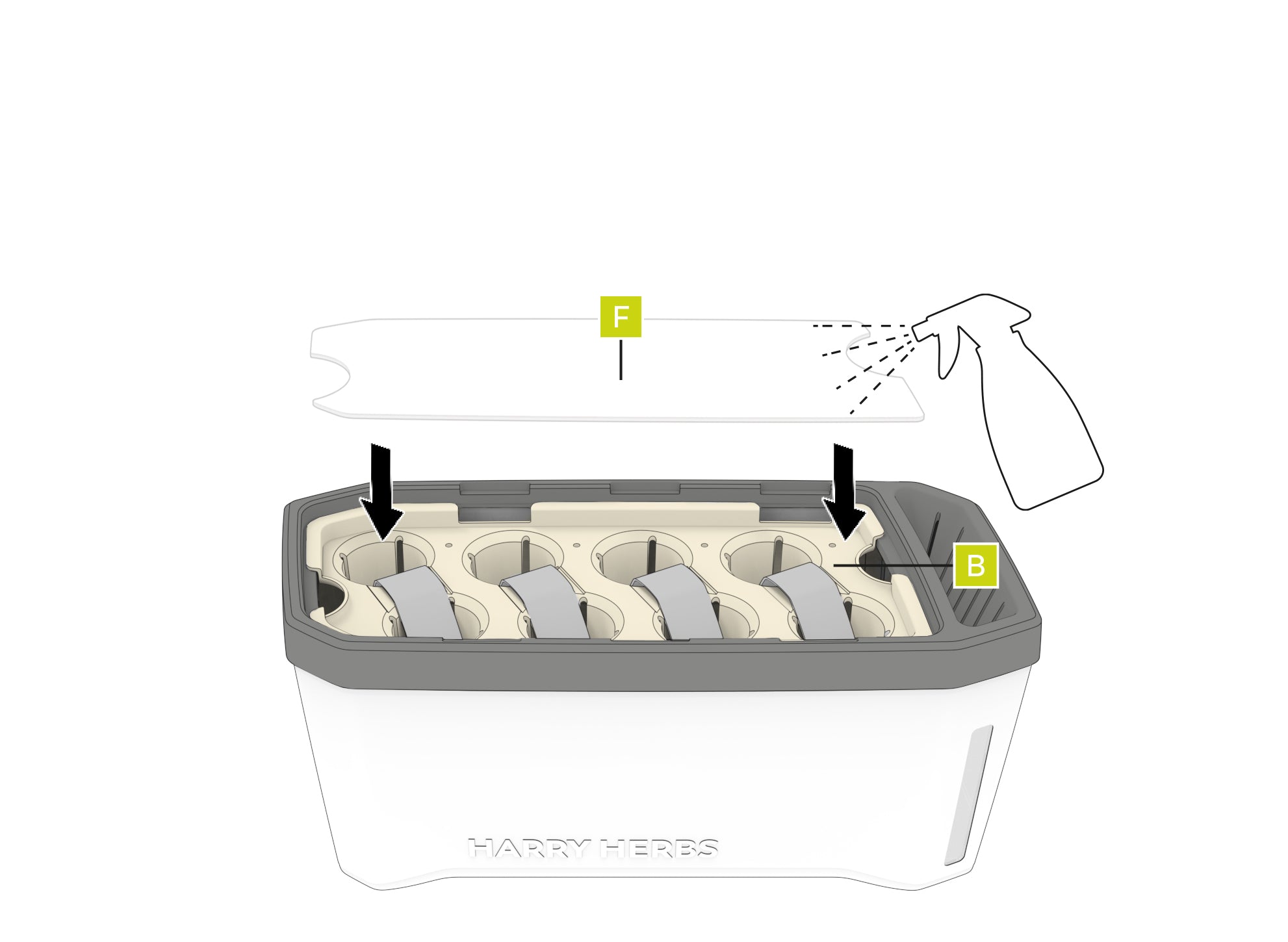 Step 6:
Sow your seeds evenly on the grow mat. First, place HARRY HERBS in the dark until your seeds have sprouted. Then move it to a bright place.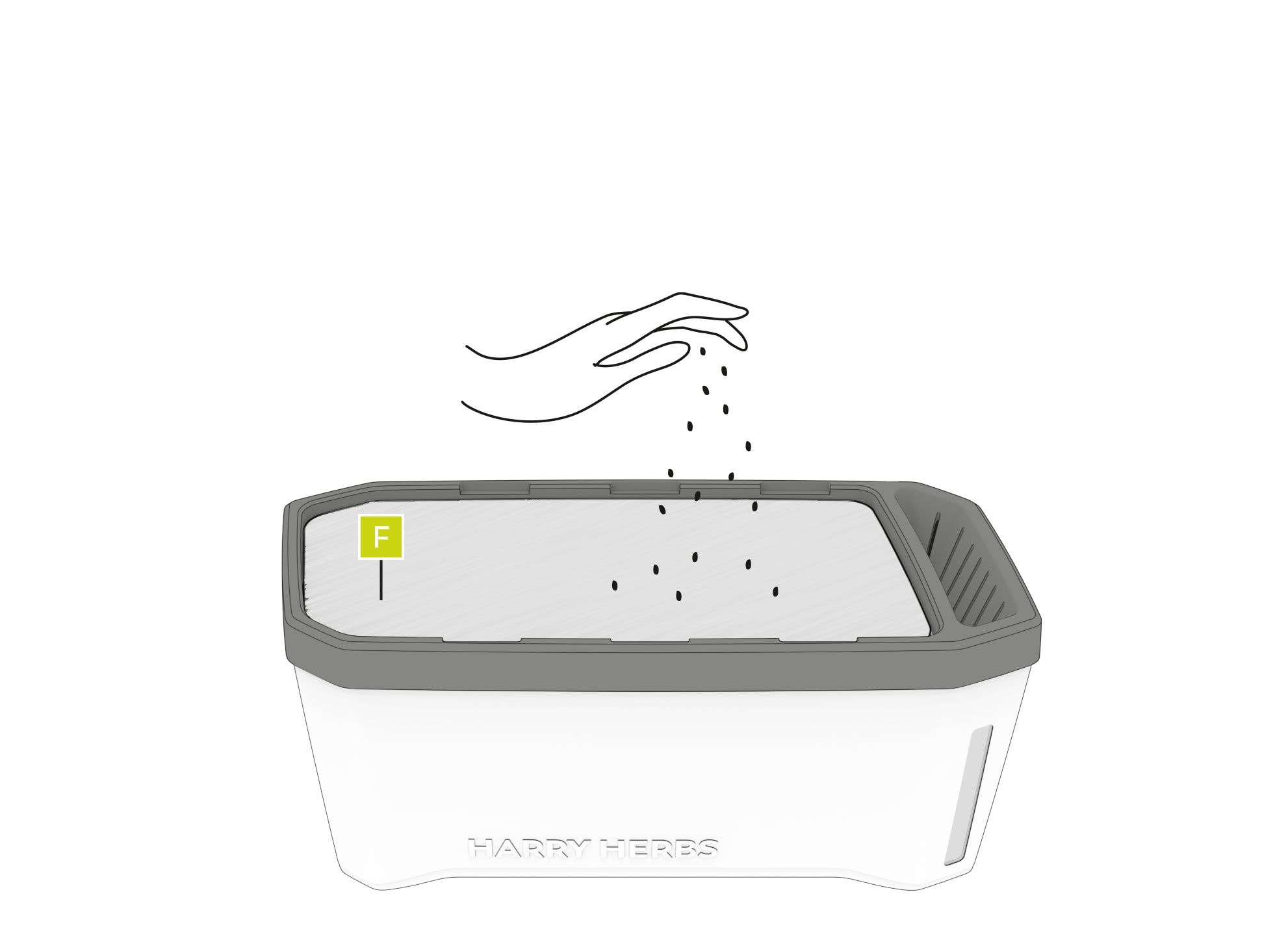 Tip:
The nursery lid with adjustable openings for ventilation provides an optimum climate and supports the growth of your seedlings.
Ongoing care & harvesting
Make sure to vent the seeds 2-3 times a day and ensure that the grow mat is evenly moist. For watering use fresh, luke-warm tap water. After about 4-6 days, your seedlings have grown their first true leaves after the cotyledons. This is a sign that you can harvest and enjoy your fresh microgreens.
Use in the kitchen
Microgreens can be used easily and in a variety of ways in your kitchen. Whether it's the classic way on sandwiches or as a sophisticated topping on pasta or salads, there are hardly any limits to your creativity. This superfood tastes perfectly in wraps, smoothies or even in or on desserts. Or would you like some radishes in your pesto instead of basil? Since you should only harvest your microgreens freshly when needed (and only harvest as much as you really need), you can easily enjoy them every day.