What can I grow in the hydroponic system?
... and many more varieties of your choice.
How do I use HARRY HERBS as a hydroponic planter?
No more dirty hands when gardening! In HARRY HERBS you can grow your own vegetables nwithout any soil.
Numerous agronomists are already calling hydroponics as a vegetable cultivation option the future. Plants in a hydroponic system require up to 90% less water and only about a fifth of the space compared to conventional cultivation. With HARRY HERBS you can benefit from all these advantages at home.
In this instruction guide, you will learn everything about HARRY HERBS as a hydroponic planter – how to set it up as well as how to take effortless care of your seedlings. You can grow your own favorite plants without soil in no time.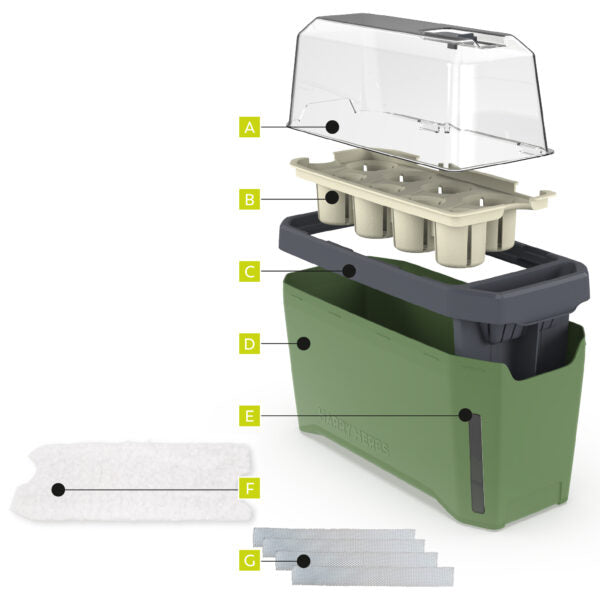 Time: 15 minutes
Costs: EUR 39.90
Tools:
- there are no tools required to set up HARRY HERBS
HARRY HERBS Set-up Hydroponic:
Step 1:
Fill a watering can with approx. 5L of water and mix with fertilizing nutrients. Fill the water reservoir of HARRY HERBS with this mixture until you reach water level 2.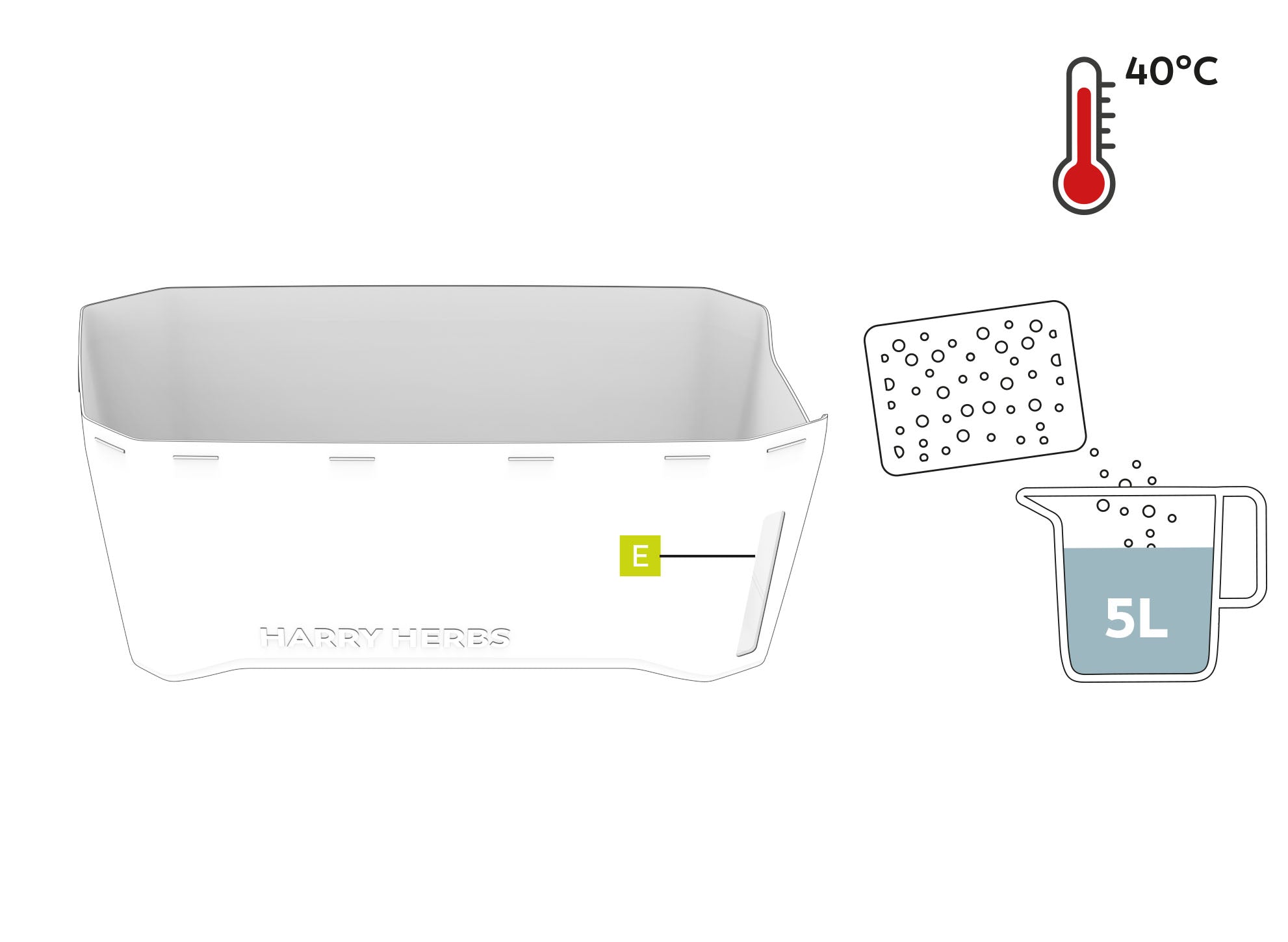 Step 2:
Place the insert holder (C) in HARRY HERBS.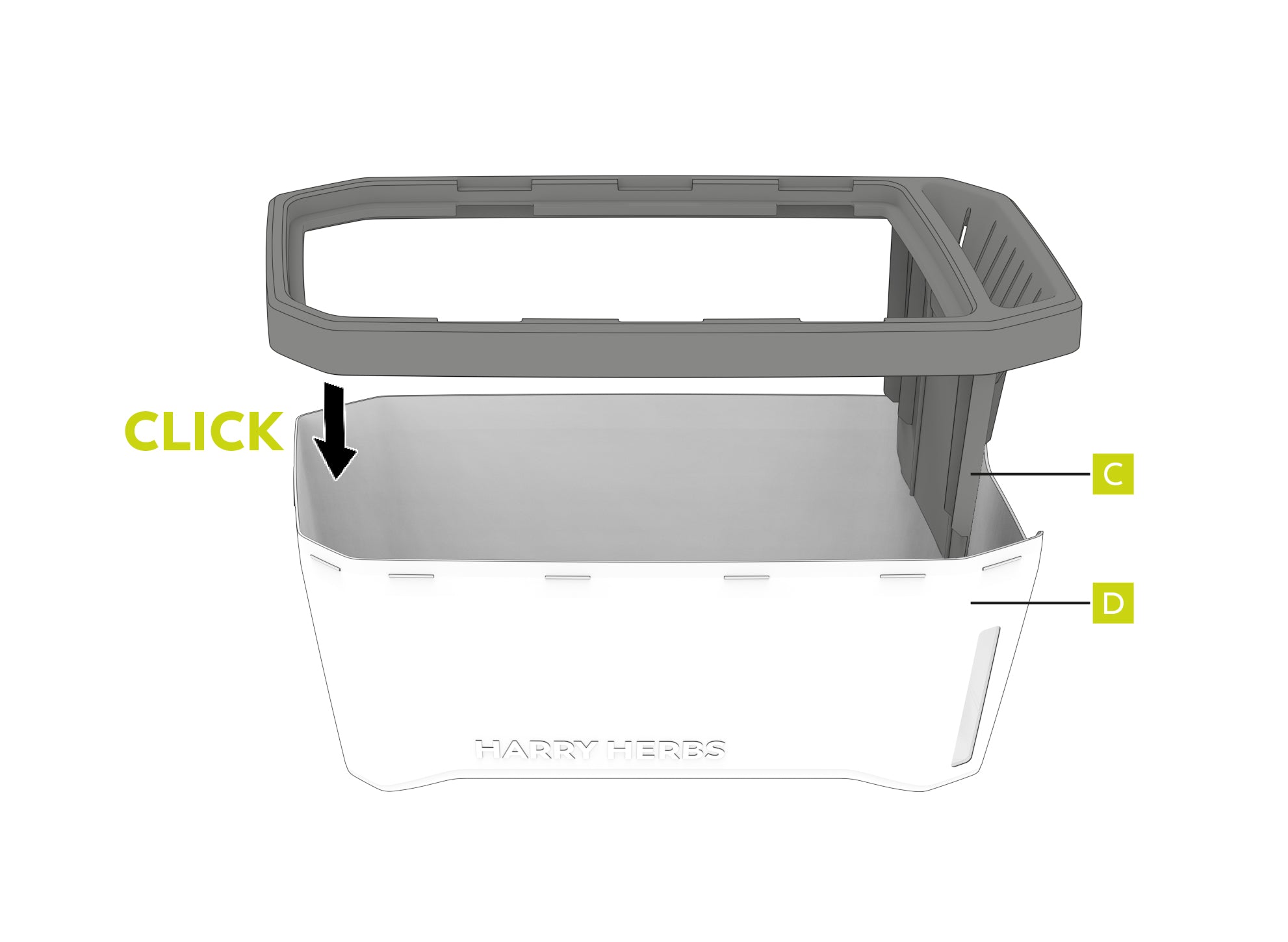 Step 3:
Seat the insert with the pots (B) on the insert holder (C).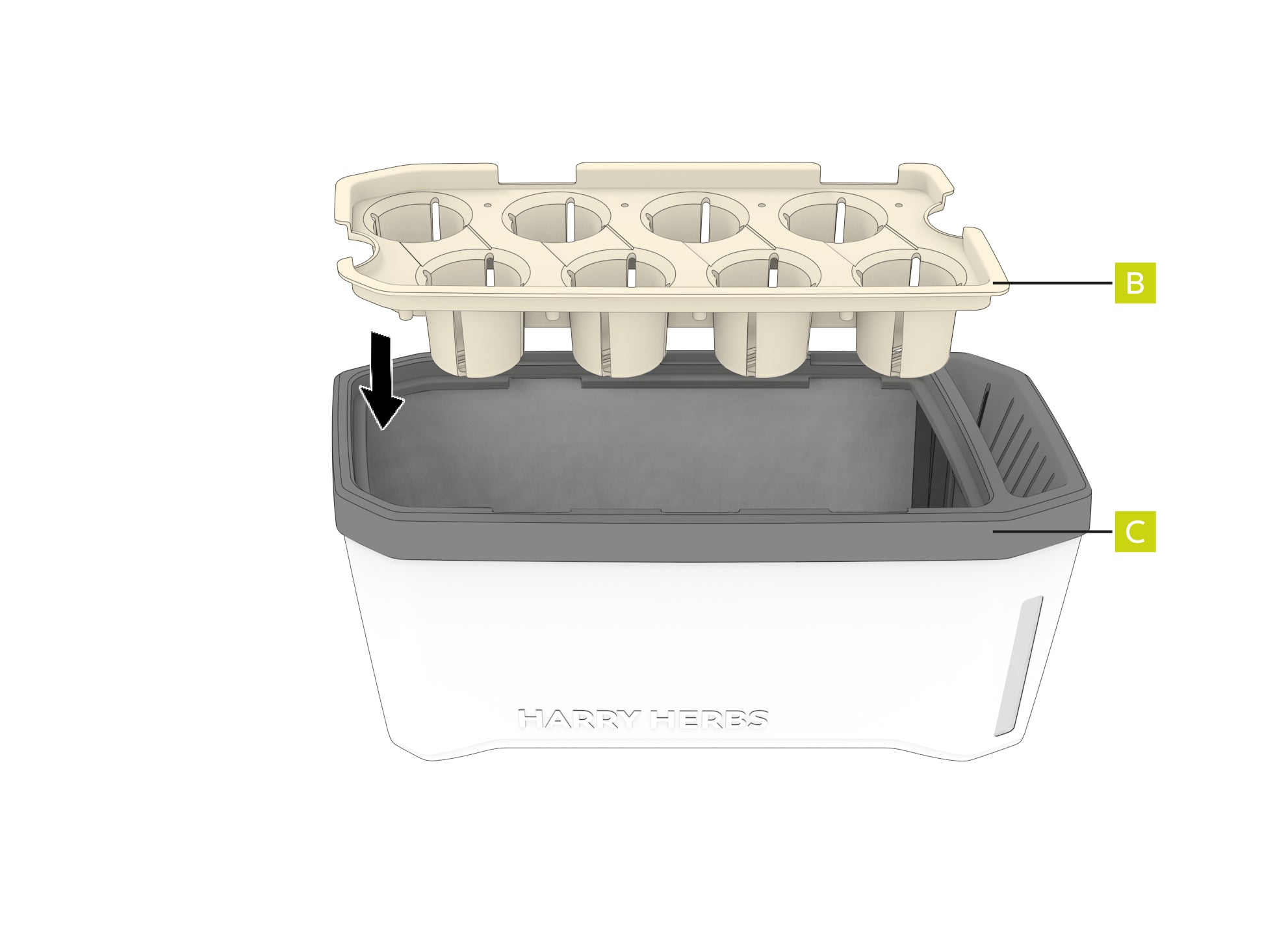 Step 4:
Lead 4 irrigation wicks (G) through the openings in the bottom of the pots (B).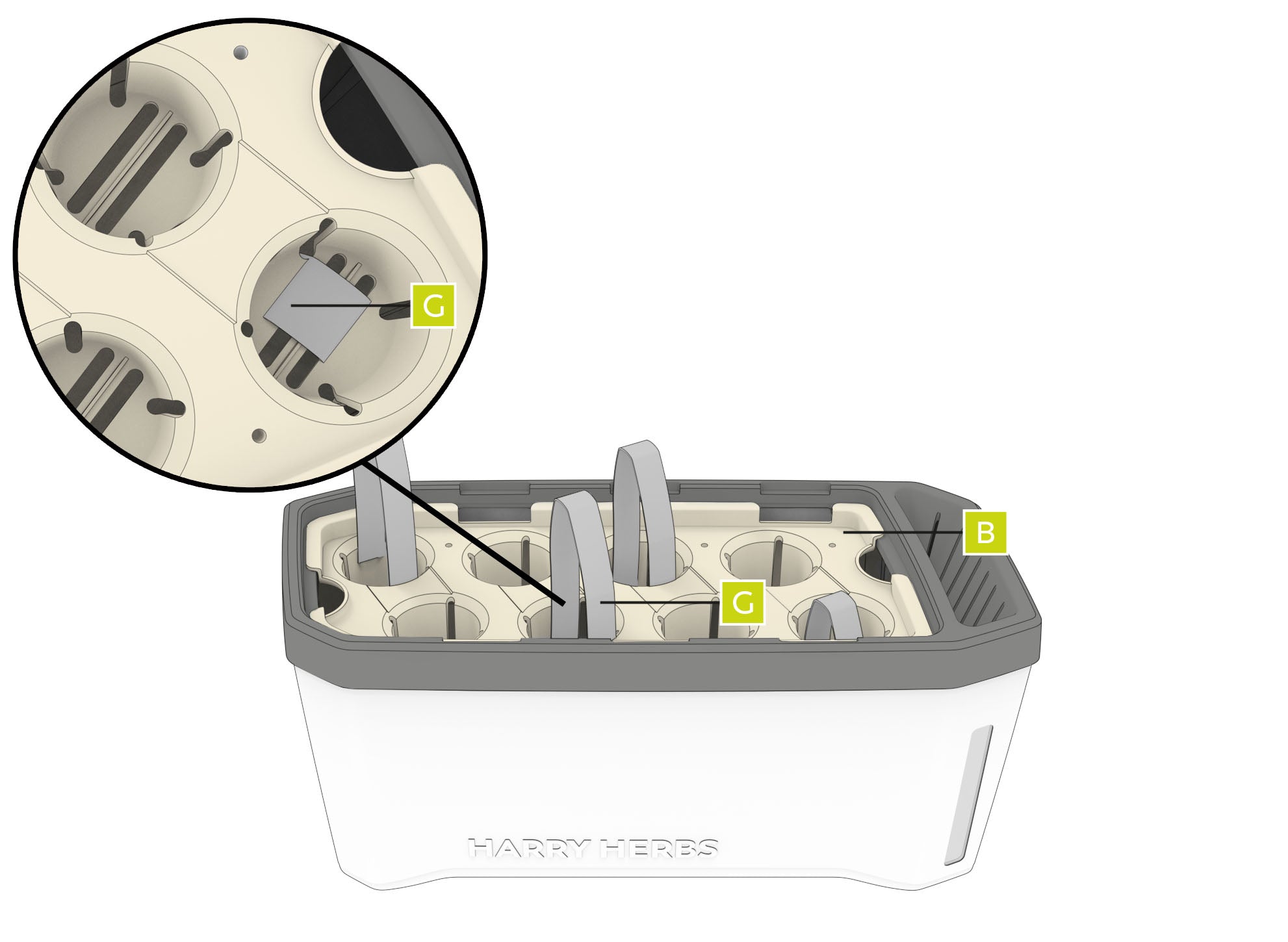 Step 5:
Then, place one hydroponic plug or sponge inside.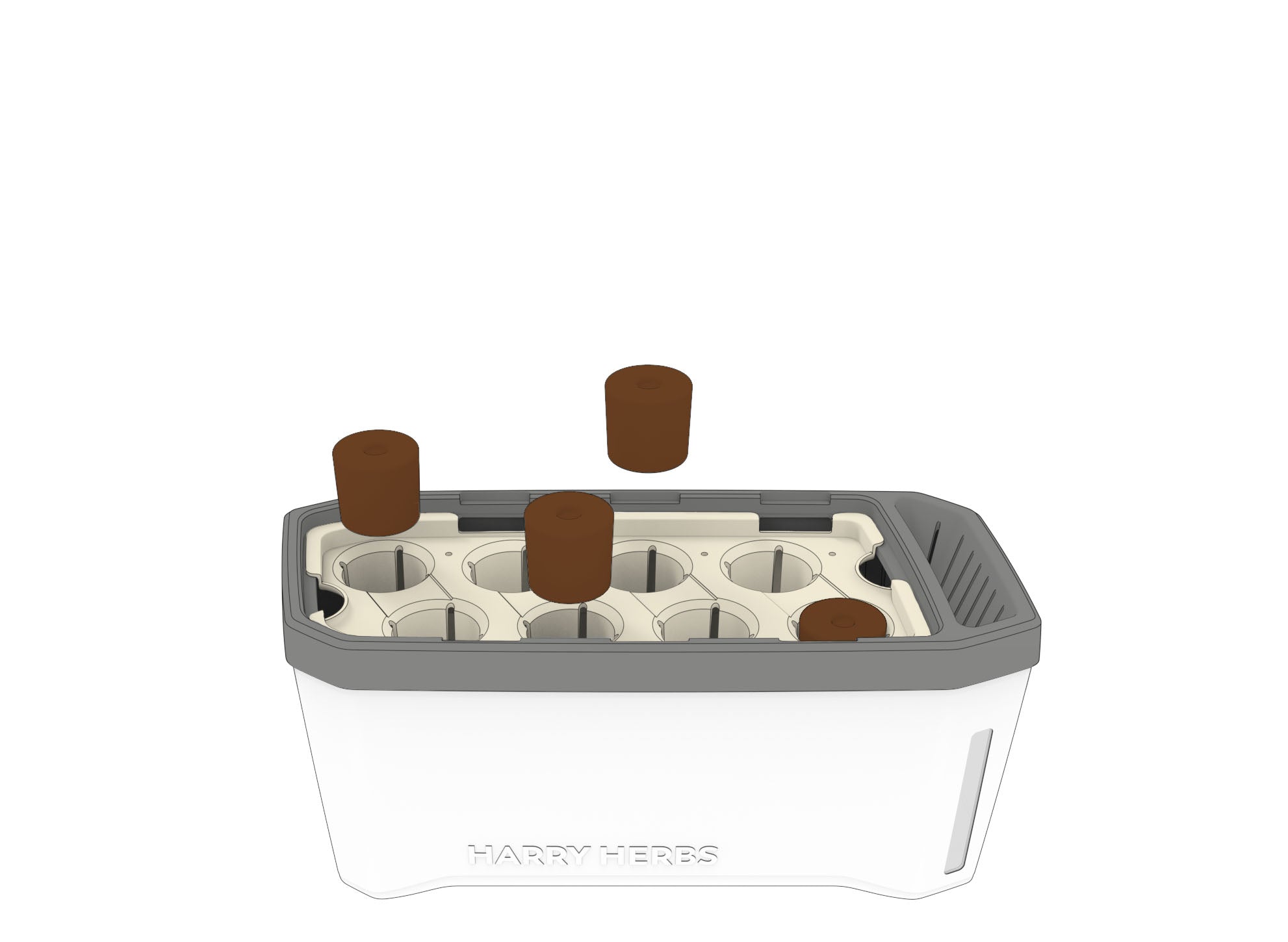 Schritt 6:
Spread the seeds of your choice on the hydroponic plugs.
Tip:
The nursery lid with adjustable openings for ventilation provides an optimum climate and supports the growth of your seedlings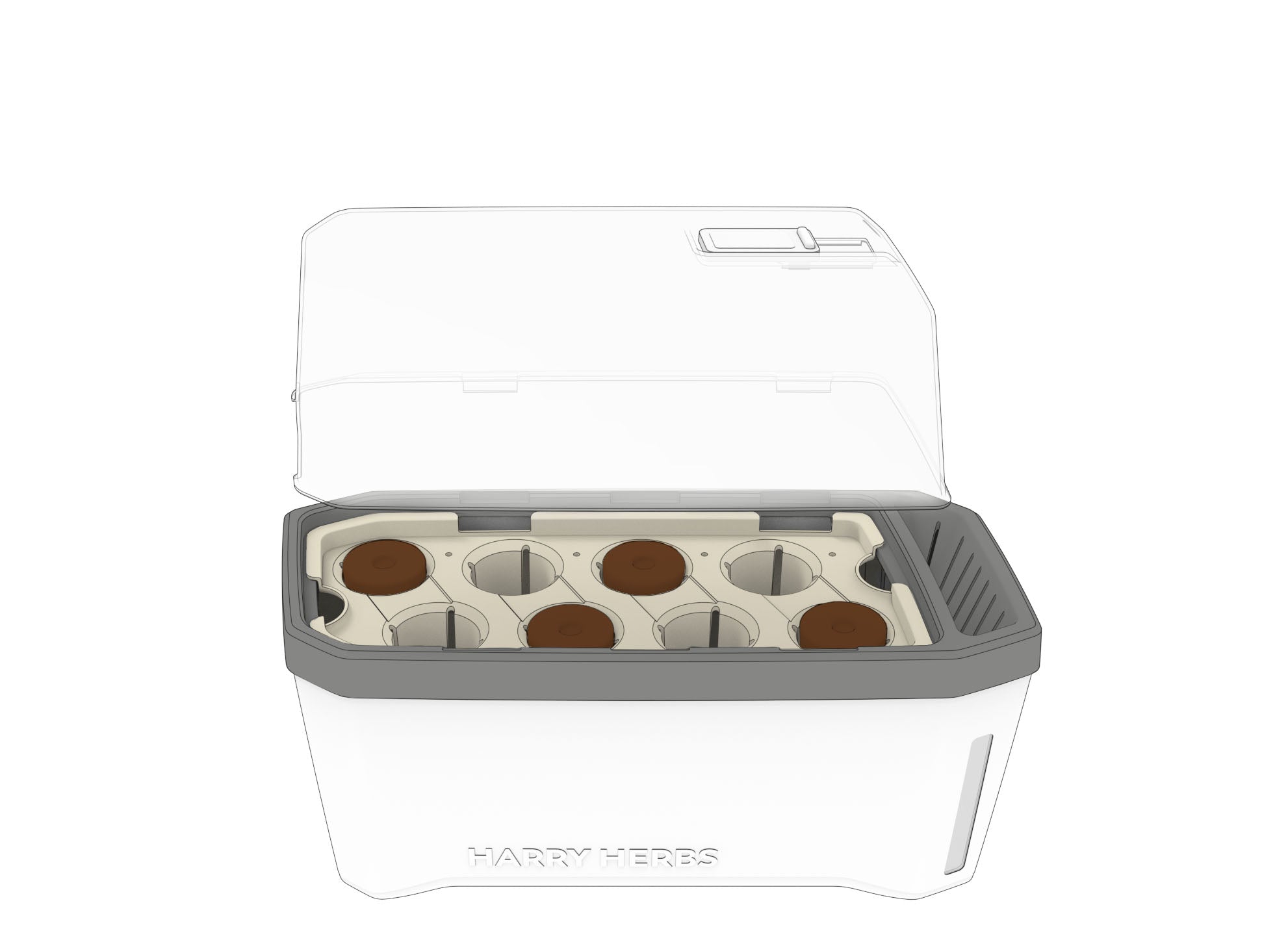 How hydroponics works
A hydroponic system works entirely without soil. The plant's root ball is held in place by a soil plug and only the roots grow into a nutrient solution. This allows the upper part of the roots to absorb oxygen, while the lower part has ideal access to water and nutrients. The nutrient enrichment of the water is achieved by adding fertilizer granules. With this, you save yourself the daily watering and only have to refill new granules into the water about every 2 weeks. Compared to other hydroponic systems, HARRY HERBS does not require any additional technology. Just ensure a bright location and enjoy a rich harvest all year round.
Varieties
For this kind of cultivation, the best varieties of plants are for example leaf lettuce, spinach or chard.