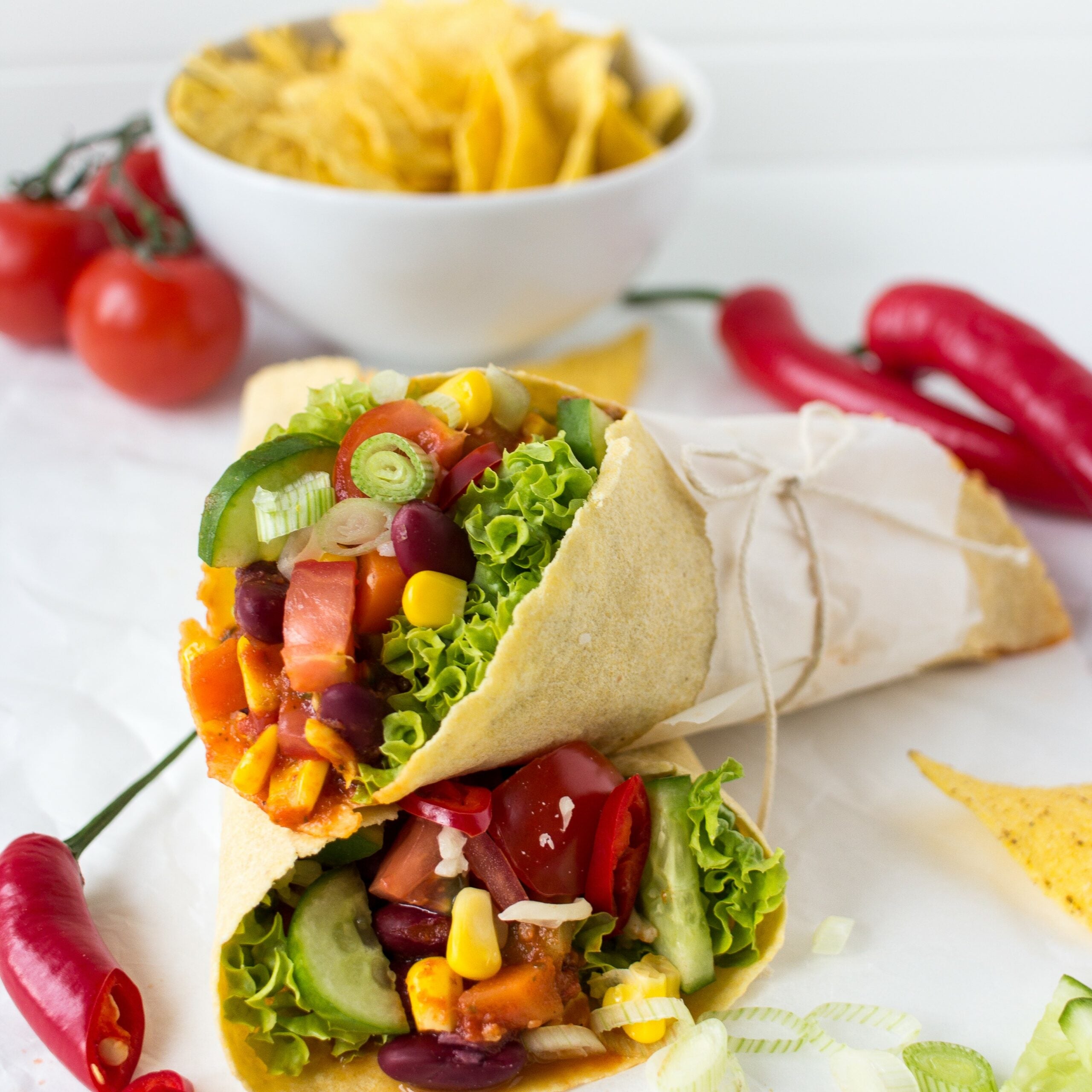 Overview
total: approx. 50 minutes
quantity: 8 wraps (4 servings)
difficulty: easy
Ingredients
Chili con Carne:
250g ground meat

1 big onion

1 tbsp. tomato paste

1 carrot

1 small piece of celery

1-2 chilis

400g (1 can) peeled tomatoes

400g (1 can) kidney beans

150g (1 small can) corn

herbs, paprika

olive oil, salt, pepper
Wraps:
8 flat breads (tortillas)

lettuce, tomatoes, spring onions

cucumber, red, green, yellow peppers

(Greek) yoghurt

mozzarella

optionally rice*
Preparation
Craving for some wraps? Filled with hot and freshly cooked chili con carne, crisp vegetables and proper spiciness.
Whether packed in wraps or tortillas, this delicious tex-mex fingerfood tastes everybody.
Roast the sliced onions gently in a deep pan. Add the ground meat and fry until golden brown. Grate the carrot and the celery and also add to the pan. Round with tomato paste and 1-2 finely chopped chilis (with or without seeds - depends on your preferred flavour). When everything is mixed and browned, season with a good pinch of salt, pepper and 2 teaspoons of paprika. Then infuse with the peeled tomatoes. Fill the can with a bit of water and also add to the pan. Boil at medium heat for approx. 20 minutes, stirring occasionally so that the ingredients mix well.
Afterwards add some fresh parsley, rosemary or thyme, the well drained beans and the washed corn. Mix well once again.
Meanwhile cut the vegetables for the wraps. Wash the lettuce and drain well (best with a salad spinner). Slice the cucumber and dice the peppers and tomatoes. For more spiciness also slice the spring onions in fine rings.
Wraps taste best when also the flat bread gets heated up at 60° in the oven or in a pan with the lid closed.
That brings us to filling:
First cover the flat bread with lettuce, spread the chili con carne on it and sprinkle with yoghurt. Also arrange the vegetables, add the sliced mozzarella and last, but not least, close the wrap: first fold the bottom side to the middle (to make sure that the filling doesn't get lost), then fold the left and and the right side to the middlle.
Enjoy with some nachos and a cool beer. Cheers!
*one teaspoon of cooked rice (from the day before) per wrap also matches very good. #nofoodwaste